Dental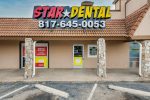 Our Dental office offers care to all ages. Starting at six months of age, it is vital to be seen every six months, unless otherwise directed by your dentist, for routine check ups. Our team here at Star Dental is excited to join the Keene community and serve those in and around the area. We pride ourselves on our impeccable customer service and care for our patients. Check out our google reviews to see what YOUR friends and neighbors have to say! We accept all PPO insurances, some HMO plans, and children and adult Medicaid. We would love to see your smile!
115 S OLD BETSY ROAD Ste #B, KEENE, TX 76059
Dr. Mertz graduated from Loma Linda University in 1990, and has over 25 years of dental experience.
Mertz Family Dentisty's goal is to restore, preserve and maintain their patients' dental health in the most professional and caring way. Dr. Mertz provides a complete examination
where he strives to provide his patients with conservative treatment options. It is important to Dr. Mertz that his patients understand their treatment plan and that their dental concerns are always addressed.
Services include: Cleanings and X-rays, Crowns and Bridges, Root Canals, Composite Fillings (Mercury free), Invisalign, Cosmetic Veneers, Dentures and Partials, and Teeth Whitening.  Contact us to learn more about how we can help you with your dental health.
104 S Old Betsy Rd, Keene, Texas 76059