Hewlett Office Systems, LLC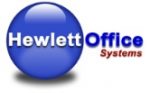 218 FM 2280
Cleburne, TX 76033
At Hewlett Office Systems, we know how important computers are to your business so we pride ourselves in getting to you office as quickly as possible. We also do everything we can to backup your data before working on a computer, so that none of your valuable data is lost. Our computer services department can help with everything from recovering a "crashed" PC to removing viruses and spyware. If you have a laptop that has a cracked or broken screen, give us a call and let us see if we can fix it for less than a new one. We can also help design you a custom built PC or help you decide on a PC that is right for your needs. If you have a network, we can help you get the most out of it, by making sure that it is running at peak performance.
Printers and copiers are another large part of our business. We can repair your printers or help you pick out a new one by helping you understand all the costs involved. We sell and repair small inkjet and laser printers up to large multi-function color laser printers. We also work on small receipt printers and large color plotters. As for copiers, we can show you how to get more out of your copier by hooking it up to your network and using it as a printer and a scanner. We can even show you how to utilize some electronic features in our printers and copiers to cut down on the amount of paper you use.
If you are in the market for a new copier, let us show you how much we can save you on one of our pre-owned copiers that have come off a corporate lease. We can usually save a company up to 50% over the cost of a new one and we give the same warranty as a new copier along with the same maintenance contracts. If you would rather lease than purchase, we make that easy too with our own leasing company.